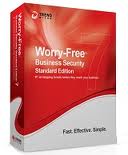 Those of you who follow my blog know that we established a partnership with Trend Micro a couple of months ago and began recommending their Worry-Free Business Security (WFBS) product to our small and medium business customers.  Our staff has completed the basic training on the new product, and we've now implemented it at three different sites.  When I announced our partnership, I promised an update to let you know how it was going. 
The pricing for the new product was phenomenal undercutting the Symantec product by about 50% with a three-year agreement.  The packaging and installation process was similar to other products we've worked with.  Configuration of WFBS was less cumbersome than Symantec's product, but it was still intense.  There are a lot of parameters to configure, and Trend Micro uses a different vocabulary for their feature set than what we were used to.  All things considered, the installation and configuration of the new software was a good experience.   
Operation of the new software has been a more troublesome.  When we established our partnership with Trend Micro the latest version of WFBS had been in general distribution for less than a month.  This made us "early adopters" of the new software.  We had several performance-related issues on workstations running the new software.  We also had serious performance problems on three of five servers we installed the product on.  That's something we take pretty seriously.  Two months and two "critical patches" later, most of our performance issues have been resolved.  Trend Micro seems to be responsive in releasing updates and patches to their software in response to problems; however, our overall experience has been less than desirable. 
In light of the trouble we've had, we're not recommending WFBS for customers ready to renew their anti-malware software licensing at this time.  We will continue to monitor the situation with this software and see if our problems are related to the newness of the product or if they are more systemic.  It is my belief that over the next couple of months, the problems will subside and we'll find that WFBS is a stable and effective software package. 
We chose Trend Micro's product is because they have a history of providing the best-possible malware blocking and they offer better software-management methods than their competitors.  Our analysis of product reviews and vendor-provided literature along with interviews of both Trend Micro staff and other Trend Micro customers lead us to believe that they have the best product suite on the market.  While I don't think we'll be "early adopters" of the next version of their software, I'm willing to give this version a little while to prove itself.  I'll keep you updated on what we find.