Recently, local coffee staple Thou Mayest Coffee Roasters needed some help making connections. In this case, is wasn't the connections they're known for making over a cup of coffee. Instead, they needed help with technical connections. Along with serving great beverages, Internet and music are key features of Thou Mayest. Their customers enjoy and expect both of these to be great. So, when Thou Mayest experienced problems in this area, they reached out to the local gurus at INDIGEX.
INDIGEX brought their expertise to bear to solve problems and provide much-improved services to Thou Mayest staff and customers alike. When bandwidth contention was wreaking havoc, INDIGEX recommended, installed, and supported a solution to fix the issues and to provide a better experience for everyone. Their solution included hardware and software supporting network segregation, captive portal, session-based bandwidth assignments, and session-time outs. While these features sound like limitations on users, they actually improve performance for everyone and ensure that in-house systems are not affected during periods of peak usage.
The results have been amazing. Network contention has disappeared and reports from customers, employees, and ownership have been all-positive.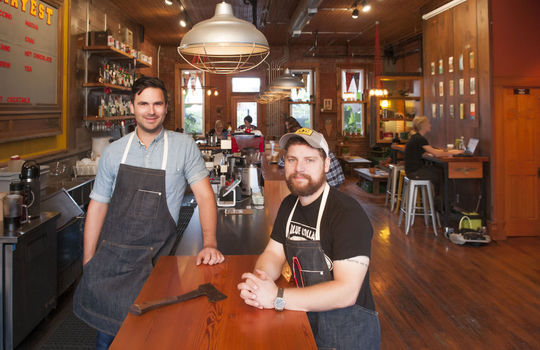 "The last thing I need when trying to run a busy shop is technical problems. They're usually complicated to solve and awkward when our guests are trying to enjoy the environment and amenities. What was great about INDIGEX is they didn't disrupt the flow of our business and they were professional, laid back, and easy to work with." – Bo Nelson, founding partner.
Editors Note: I (Jason) usually write these articles, but our friends at Thou Mayest were gracious enough to write this up and give us a ringing endorsement. Thanks for that!
Thou Mayest coffee is really good but in my opinion, it's the atmosphere at their shop in the KC Crossroads that makes them amazing. Their staff are awesome! It's a great place for social gatherings as well as a plain old business meeting over really good coffee. If you can't get down to their home in the Crossroads, you can always order some coffee online. You won't be disappointed.